Salus@Work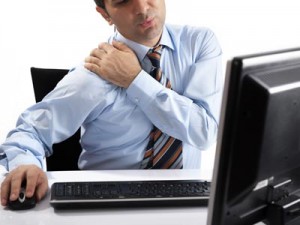 Salus@Work is an initiative which aims at improving the health of those people working in the office, perhaps "anchored" to their chairs for prolonged periods of time. A quick short massage to release tension and stress can be very beneficial not only for the office workers but for the whole company. In fact, helping the members of the staff be more comfortable is a great investment for your company. When your staff is relaxed, healthy and happy, the whole atmosphere improves and the benefits are many, including:
Increasing productivity
Improving working conditions and environment
Increasing staff retention
Reducing sick days and absenteeism
And quite simply, make your company a very cool company to work for 🙂
And all it takes is between 10 and 20 minutes per member of staff every so often to achieve all of that. This is probably the most cost effective way to reduce sick leave and improve both productivity and working conditions. Give us a call now on 01223 300 222 to see how you can make your company… that little bit healthier.
Who is Salus Wellness
Salus Wellness is a very well established health centre in Cambridge and for years, we have been looking after people's health and well being by ensuring that our practitioners are fully qualified, insured, experienced and, most importantly, passionate about helping others feel better.
Our large clinic in in the centre of Cambridge, is home to more than 60 practitioners and now, with Salus@Work, you can have them come to your office and look after your employees wellbeing too.
We can perform:
Indian Head Massage
Facial
Shoulder Massage
Acupressure
Neck and Shoulders Massage
Reflexology
Yoga
Psychology training
Mindfulness
… and more…
Price Range
We consider a minimum engagement of two hours for one practitioner which will cost your company (for physical therapies) £130 + VAT and will include the time and all material provided.  Longer engagements will have a hourly discount scale (e.g. the longer we are on site and the cheaper by the hour it becomes) so three hours will be charged at £180.00 + VAT and four hours at £220.00+VAT. In case of many people need to be treated in a single location it is possible to arrange for more than one practitioner to be on site.   These prices are valid for treatments delivered in a venue located within CB1-CB5 post codes.  Extra travelling charges will apply for location further afield.
What now?
Call us now on 01223 300 222 or email info@salus-wellness.com for more information.
Salus @ Work – Making your company, that little bit healthier.