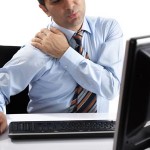 Salus Wellness is officially launching today Salus@Work, a corporate service offered to local service companies, helping employers to improve the quality of their working environment.
Long hours sitting at the desk and stress can cause tension to shoulders, arms and neck. If ignored, these can cause debilitating pain which may reduce productivity and possibly even increase sick leave.  Work related stress, according to the Health and Safety Executive, is costing British companies in excess of half a billion per year with over 14 million working days lost between sick leave and reduced productivity.
The Salus@Work scheme offers a practical hands-on solution to release tension and stress in the form of a short 5-15 minutes massage to the shoulders, neck area, hands and head for all employees who wish to partake.  These massages are performed while fully clothed and from a seated position, either at the employee's desk or in a purposely set-up massage chair located in a function or meeting room depending on the employer's preference.
Obvious benefits are:
Increase productivity
Improve working conditions and environment
Increase staff retention
Reduce sick leave
Promote team building
After running successful trials with a short list of local companies Salus@Work is now available to all companies in Cambridgeshire that care about their employees and keen to invest in their wellbeing and make their company a place people want to work for.  Moreover Salus Wellness is offering a totally free session to the first 5 companies that get in touch before 21 December.