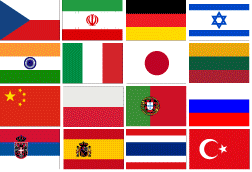 Cambridge is a very international place and foreigners are representing a considerable percentage of the total population. Being myself one of them and having started a number of businesses over the years it comes quite natural to me to be doing business with foreigners in various professional and entrepreneurial positions.
It was not until last week when one of my colleagues was asked specifically for the details of our Turkish speaking counsellor when the penny dropped and I realised the extra advantage we offer at Salus Wellness. By having native speakers in many different languages, currently 16, our clinic can offer therapy and consultations in English as well as in a variety of other languages. This comes in handy when we are asked to work with tourists or people who recently immigrated to the UK. Although many of the foreigners being treated at Salus Wellness do actually speak good English, many of them feel more comfortable discussing their issues, particularly if mental health related ones, in their native language.
Here is the list of languages currently spoken at Salus Wellness, in alphabetical order: Croatian, Farsi, German, Hebrew, Hindi, Italian, Japanese, Lithuanian, Mandarin Chinese, Polish, Portuguese, Russian, Serbian, Spanish, Thai and Turkish. So if English is not your first language we might be able to offer a therapy in your own language which can be an extra l help for you.