Cambridge Sports Massage Clinic
Prices range from £45 to £60 for a one hour treatment.
£30 for 30 minutes, £65 for 90 minutes. Check individual treatment pages for further details.  Call 01223 300 222 for a free CONSULTATION

Do you suffer from any of these?
Back or knee pain
Neck or shoulder pain
Wrist or elbow pain
Stiffness and poor joint mobility
Tense or painful muscles
Jaw problems
Headaches
Fibromyalgia or chronic fatigue syndrome
Chronic pain from a sports injury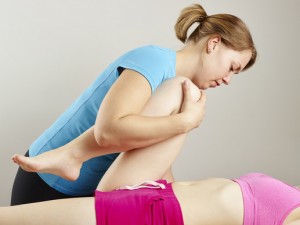 If you do, then a session with sports massage therapist at our Cambridge clinic will help you feel better.
Are you preparing for a sporting event which you've been training hard for and you don't want any injuries or pains to get in the way of your performance?
Or has a sporting event like a marathon or big game left you with aches and niggles?
Sports massage can help your muscles to relax and speed your recover from injury. Your therapist can help you resolve any of your injuries with a treatment plan tailored specifically to you.
How can sports massage help?
You may have heard of the terms trigger point therapy and myofascial release therapy. Trigger points are commonly referred to as knots or tight bands that can be felt in tight contracted muscles. Knots often occur as a result of poor posture, repetitive activity or muscle injury.
Using a variety of hands-on soft tissue techniques, such as myofascial release and remedial massage, your therapist will work to release the particular trigger points that are causing direct or referred pain and discomfort. Myo means muscle, and fascia means connective tissue, so myofascial release is about releasing the tension in your muscle and connective tissue.
Your therapist may also have you perform stretches and mobility exercises, which help to improve your range of motion and reduce pain. Other treatments such as rock taping (or Kinesiology tape) may also be used in the treatment of injuries or to improve physical performance.
Your sports massage therapist will also show you how to manage your symptoms with rehabilitation and exercise techniques you can do between your treatment sessions.
What to expect in your first session
Your sports therapist will test your joints and muscle mobility to find out what is the underlying cause of your injury. Then, they can tailor a treatment specifically for you to get relief from your injury.
Your qualified sports massage therapists
You can rest assured that you're in safe hands because all the therapists at our Cambridge sports massage clinic are fully qualified.
Please click on any of the names below to learn about individual therapists. Or, call us on 01223 300 222 to make an appointment.