Stefano Lombardi
Physiotherapist
First assessment and treatment (60 minutes) £70. Follow-up treatments (60 minutes) £55. Sports massage: (45 minutes) £45 (30 minutes) £30. Home visits: £100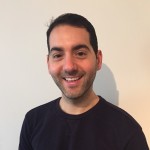 Stefano is a Physiotherapist registered with:
The Health & Care Professions Council (HCPC no. PH109015), The Chartered Society of Physiotherapy (CSP no. 099354). He treats a full range of musculo-skeletal problems, including:
Neck and back pain
Sporting injuries
Muscle, joint and ligament injuries
Arthritis rehabilitation
Postural problems
Occupational injuries
Overuse syndrome
Pre and post – surgical rehabilitation
Stefano also offers Sports Massage, Remedial Massage and Deep Tissue Massage.
Since graduating from the highly esteemed 3 year physiotherapy course at the University of Udine (Italy) in 2008, Stefano has gained a wide variety of experience in musculo-skeletal and sports medicine physiotherapy in Italy.
In Italy he worked for an exclusive private physiotherapy clinic, gaining valuable experience with a wide variety of elite athletes which included Football players, runners, Golf players and cyclists.
In the UK he continues to work in the private sector, helping clients in their rehabilitation of both acute and chronic injuries.
He specialises in Sports Rehabilitation with extensive experience in treating a wide range of musculo-skeletal disorders, based on a full assessment and diagnosis, and has a keen interest in the bio-mechanics of injury and rehabilitation.
Through his work with individual athletes who compete nationally at various sports, he has developed an interest in movement screening and helping injured athletes to return to their previous level of performance following injury and surgical interventions.
Stefano also gives advice for the self-management of long term or recurrent conditions such as work-related disorders, postural issues, back pain and muscle strain.
In his spare time Stefano enjoys football, running and getting on the golf course.
You can contact Stefano by e-mail on stefanolombardi.cambridge@gmail.com or by calling 07762 501289.