Salus Wellness Clinics, a Complementary Health Centre based in Cambridge,  run last week the third business workshop for therapists: for the first time this great event was available to external practitioners.
Covering several key topics around sales and marketing this 3 hours workshop was run by:
Luca Senatore, Sales Director of Salus Wellness and successful Sales Trainer and mind coach
Massimo Gaetani, Marketing Director for Salus Wellness and successful Business and Executive Coach.
Welcoming a total of 12 delegates the presentations were developed with a strong component of interactivity involving all participants and giving them the opportunity of explaining and discussing their particular issues and getting effective help from both the coaches and the other delegates.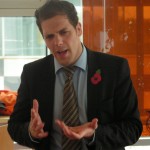 Luca's presentation was about "Unleashing the power of your business" and covered the following topics:
How to create a plan of action which WILL get you clients
How to become proactive and just know what to do
How to eliminate procrastination



Massimo's presentation was about "How to create more time in your week" and covered the following topics:
Make up to 4 extra hours weekly
Complete your tasks in less time
Reduce the workload easily by learning a "new word"
Salus Wellness is reshaping the concept of complementary heath clinic by offering, on top of great facilities and state of art equipment, hands on help in business mentoring and coaching to allow all practitioners to thrive.
Salus Wellness is  therefore inviting all practitioners interested in exploring a new opportunity to work in a very dynamic and inspiring environment, together with real and practical help that allow you to grow your business.
For more information please contact:
Luca Senatore – 07869 109 337 luca@salus-wellness.com
Massimo Gaetani – 07879 610 111 massimo@salus-wellness.com