Work With Us at Salus Wellness in Cambridge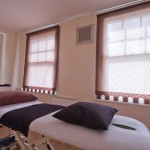 Salus Wellness is one of the largest and busiest clinics in Cambridge with 8 therapy rooms, 5 suitable for physical therapies, fitted with fully adjustable couches and 3 for talking therapies. We have an extensive team of 60+ fully qualified, insured and accredited practitioners offering a wide range of talking and physical therapies. We are always on the look-out for experienced practitioners and health care professionals. What makes Salus Wellness unique, together with its professional setting, full time reception, great premises and proactive attitude, is the marketing know-how and advice that comes with the package.
When you join our team, you will receive invaluable marketing and business development advice and access to free monthly workshops. This makes a huge difference between therapists who are forced to quit their practice and look for a job; and those practitioners who love what they do and go on to build a successful business around their passion for helping others.This enables you to help even more people whilst able to maintain a lifestyle that suits your expectations. Salus Wellness was founded by Massimo Gaetani, an entrepreneur, business coach and marketing expert and his main goal at the clinic is helping you growing your practice like a true business. Please read Massimo's articles here.
We set our bar high and only recruit practitioners able to provide:
Full professional qualifications
Full professional liability insurance (minimum £1 Million)
Proof of membership to a national regulating body
References
Evidence of experience
Being prepared to adhere and work according to our code of ethics and corporate social responsibility policy
Practitioners are invited to complete an application form and attend an interview. Upon satisfactory outcome of the interview, we reserve the right to contact the referees and make the applicant an offer of collaboration.  Depending on the level of membership, practitioners working at Salus Wellness Clinics will receive the following:
Their own slots permanently allocated in one of our therapy rooms of choice on a weekly basis
Plenty of flexibility for ad-hoc hours to manage emergencies as well as one-off and unexpected bookings
Being part of the largest team of professional practitioners in Cambridge
Full time reception and telephone cover outside office hours
Free access to a share of potential client enquiries the clinic gets from the general public
Free monthly workshops of 2 hours discussing topics like marketing, business development and customer service
Access to free hands-on business coaching for your practice
Professional premises with holistic, earthy and yet professional look
Very competitive rates
State of the art, well-functioning and regularly maintained equipment
Listing on our www.salus-wellness.com website with 2000+ targeted local visitors per month
Position on the first page of Google within www.salus-sellness.com
Possibility of publishing pertinent articles on our website
Mentions on our busy and well followed social media channels like Twitter, Facebook and Google+
Advertisement within the premises with your own business cards and leaflets
Advertisement on leaflets distributed in and around town as well as other media
Inclusion in mass marketing campaigns at a fraction of the costs
…and much more…
Call us now on 01223 300 222 to find out more about working at Salus Wellness.