Thai Yoga Massage
Prices range from £45 TO £60 for a one hour treatment. Check individual treatment pages for further details. Call 01223 300 222 for a free consultation

In this unique healing system of Thai Yoga Massage – also called Nuad Boran and widely known as traditional Thai massage – the practitioner guides the recipient through a series of yoga postures while palming and thumbing along the body's energy ("Sen") lines and pressures points.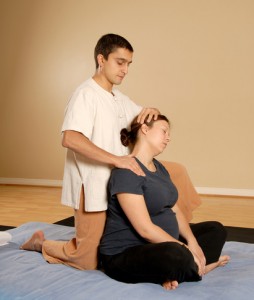 Together these actions result in a comprehensive full body treatment that relieves muscular tension, improves circulation, boosts the immune system and balances the body energetically.
Thai Yoga Massage is performed on a mat on the floor; both client and practitioner are dressed in comfortable clothing allowing ease of movement and flexibility. No oils or creams are used.
How can I make a booking?
Call Salus Wellness now for a free initial consultation, 01223 300 222.
Where is your Cambridge Thai Yoga Massage Massage Clinic?
The clinic is based within Salus Wellness at 47 Norfolk Street, about 5 minutes walk from the Grafton centre.