Cambridge Reflexology
Prices range from £45 for a one hour treatment. Call 01223 300 222 to make an appointment with a reflexologist at our Cambridge clinic

Reflexology is based on the concept that there are reflexes in the hands and feet that are linked to the organs of the body. It uses the nervous system to restore the body's natural equilibrium.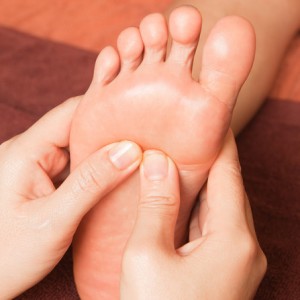 Reflexology can benefit you by:
Reducing pain – migraines, headaches, joint pain
Relieving stress and anxiety
Assisting with fertility and pregnancy
Do you wish there was a better alternative to painkillers for managing your headaches or joint pain?
Do you have a stressful job or home life and struggle to relax?
Do you suffer from morning sickness or other pregnancy-related conditions?
If you answered yes to any of these questions then our professionally qualified reflexologists here in Cambridge can help you resolve your issues using an alternative and complementary treatment plan.
Reflexology for pain relief, headaches and migraines
If you are suffering with headaches, the practitioner would focus on stimulating the reflex points of the thumb and big toe (corresponding to the head and neck) in order to shift energy and release any blockages in the nervous system. With this treatment, it can take approximately 20 minutes and it might help your headache to reduce or disappear.
Arthritis and Multiple Sclerosis
In cases such as Arthritis or Multiple Sclerosis, reflexology does not get rid of these conditions. What it does do is provide effective pain relief and the ability to make the symptoms more manageable.
Reflexology for relaxation from stress and anxiety
If you suffer from stress or anxiety, your practitioner will work on certain reflexes on the hands and feet (relating to the hormonal system) to encourage relaxation. Incorporated within this treatment are also breathing exercises and some self-help practical techniques to take away as homework.
Reflexology for Fertility
Are you looking for support and advice on how to boost your fertility or improve your sexual health? Stress and anxiety can interfere with fertility and sexual health, so by addressing these problems reflexology can improve your chances of falling pregnant.
Reflexology for Pregnancy
Are you pregnant and looking for help and support during your pregnancy? Perhaps you are a little stressed or overdue and are in need of some relaxation? Do you struggle with morning sickness, constipation, swollen ankles, pelvic pain or headaches associated with pregnancy? It is advisable to seek permission from your midwife before commencing reflexology treatments if you have serious conditions.
What can I expect in my first reflexology session?
The reflexologist will carry out an initial consultation to establish what the presenting problems are. You will be asked whether you've had reflexology treatments in the past and what you would like to get from the treatment. From this, a treatment will then be specifically tailored to suit your individual needs and requirements.
Reflexology is more than just a foot massage and the practitioner will explain that there may be some discomfort during the treatment due to sensitive areas that require working on. However, the treatment starts off by softly manipulating the areas of the feet or hands followed with more firm pressure being applied.
How does reflexology work?
In the words of the field's pioneer Eunice D. Ingham: "Reflexology is a science which deals with the principle that there are reflexes in the feet relative to each and every organ and all parts of the body. Stimulating these reflexes properly can help many health problems in a natural way".
Your qualified Cambridge Reflexologists
You can rest assured that you are in safe hands because our Cambridge based reflexologists at Salus Wellness Clinics are fully qualified. Reflexology is a natural, complementary, safe and non-invasive treatment which is beneficial for babies and children as well as adults.
Please click on any of the names below to learn more about our individual therapists, or call us on 01223 300222 to make an appointment.