Cambridge Pregnancy Massage Clinic
Prices range from £45 to £60 for a one hour treatment. Call 01223 300 222 for a consultation.

Get an appointment with a Cambridge pregnancy massage therapist within 48 hours to relieve your back pain and reduce your stress levels.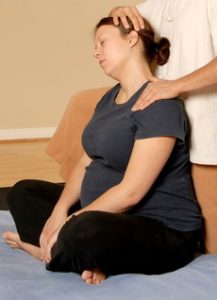 Do you have back, neck or shoulder pain due to pregnancy? Are your muscles and joints aching and feeling tense? Do you have nerve pain down your legs? Are you feeling stressed or anxious?
Pregnancy causes many changes to your body both physically and emotionally and so it's very important to look after yourself and your growing baby. This is your time to rest, relax and enjoy your pregnancy free of pain or stress.
Let one of our fully qualified professional pregnancy massage therapists help you if you suffer with any or all of the following:
Back, neck and shoulder pain
Muscle and joint stiffness
Stress and anxiety
Swollen ankles
Insomnia
Why is it important to see a qualified pregnancy massage therapist?
Your body goes through many changes during pregnancy and so the massage treatment will need to be adapted accordingly. Depending on what stage you are in your pregnancy, the therapist is trained to advise you of any contraindications related to pregnancy; which massage techniques would be most suitable and to position you in such a way to ensure you are comfortable throughout your treatment.
How can pregnancy massage help?
Pregnancy can have an impact on your posture thereby placing undue strain on your joints and muscles. Pregnancy massage uses light, gentle techniques to promote deep relaxation and relieve muscular tension and pain.
The therapist is specially trained to adapt these techniques to suit the changes your body is experiencing in pregnancy.
Amongst some of the benefits are:
Reduction of stress and promotion of relaxation
Reduced muscle tension and joint pain
Relief for back, neck and shoulder pain
Release of the "feel good" hormones Dopamine and Serotonin
Reduced swelling
Improved sleep patterns
Improved circulation and boost energy levels
What to expect in your first session?
When you visit our Cambridge pregnancy massage clinic, your therapist will do a consultation with you to establish where you are in your pregnancy and what your specific issues are. That way, the treatment will be tailored to your particular requirements. The therapist will then ask you to lie on your side on the couch and prop you up with cushions so that you are comfortable. This will avoid any unnecessary strain to you and your baby whilst you are having the treatment.
PLEASE NOTE:
Prior to booking your first massage treatment, it is strongly advisable to inform the clinic that you are pregnant. This is because not all massage therapists are professionally trained and qualified to carry out pregnancy massage and so won't be able to treat you.
It is very important that you seek advice from your GP before you book a massage treatment especially if you are in your first trimester. It is said that there is a high risk of miscarriage associated with massage in the first 12 weeks of pregnancy and so it is best to err on the side of caution.
Your qualified Cambridge pregnancy massage therapists
You can rest assured that you are in safe hands as all the therapists at our Cambridge pregnancy massage clinic are fully qualified. Please click on any of the names below to learn more about the individual therapists or call us on 01223 300222 to book a free initial consultation.