Cambridge Physiotherapy Clinic
Prices range from £45 to £70 for a one hour treatment. Call 01223 300 222 for a consultation.

Get an appointment with our Cambridge Physiotherapist within 48 hours to relieve your back, neck and shoulder pain or any sports related injuries.
Do you have back, neck or shoulder pain? Are you struggling with pain due to a sports related injury?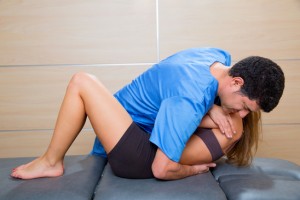 Are you preparing for a sports event (the Cambridge half marathon) and want to ensure you are training safely in order to avoid or reduce injury?
Have you just completed a marathon and looking for treatment for sore and tight muscles?
Let our fully qualified registered Cambridge physiotherapist help relieve and manage your pain in order to restore optimum mobility and well being. We can help you if you suffer with any or all of the following:
back, shoulder or neck pain
headaches
muscle, joint and ligament injuries
sports injuries
occupational injuries
Pre and post surgical rehabilitation
arthritis rehabilitation
postural problems
Overuse syndrome
Tendonitis or tennis elbow
Upper arm pain and injury
Ankle and knee pain and injuries
Jaw pain (TMJ)
How can Physiotherapy help?
Physiotherapy takes a holistic stance involving you in your treatment every step of the way. The physiotherapist can use all or a combination of the following techniques and treatments to help resolve most problem areas:
Manual therapy (hands on treatment) including mobilisations of spinal and peripheral joints and soft tissues, to alleviate pain and stiffness
Soft tissue and myofascial release, to loosen muscles, ligaments and surrounding tissues
Therapeutic and specific exercises to relieve your symptoms and prevent recurrence of the cause of your symptoms
Postural re-education to alleviate pain and restore muscle balance
Taping for support, pain relief and retraining
Ergonomic advice and assessment
Massage therapy
Massage can help to alleviate pain, restore movement and promote relaxation. It releases tension and stiffness in strained or restricted muscles, ligaments, tendons and soft tissues and is beneficial for overall well-being.
What to expect in your first session?
Assessment:
At your first appointment, your physio will take a thorough history of your problem and ask detailed questions about the behaviour of your symptoms and relevant medical history.
Your physio will then observe, examine and test various movements and structures in order to diagnose your problem and establish the cause of your problem.
After the diagnosis or 'crux' of the problem is established, then the most appropriate treatment plan is then devised in collaboration with the client, and tailored to accommodate individual needs, lifestyles and sporting ambitions.
A treatment plan will be discussed with you and implemented to get you back to normal pain-free movement in the shortest possible time and to help prevent the problem occurring again.
Please remember to bring any relevant scans, X-rays or medical reports with you for your first appointment.
Your qualified Cambridge physiotherapist
You can rest assured that you are in safe hands as the physiotherapist at our Cambridge Physiotherapy Clinic is fully qualified and registered with the Chartered Society of Physiotherapy (CSP).
Please click on the name below to learn more about our physiotherapist or call us on 01223 300222 to book an initial consultation.