Indian Head Massage
Prices range from £30 to £50 for the treatment. Check individual treatment pages for further details. Call 01223 300 222 for a free consultation

Indian head massage has been practised in India for over a thousand years and it works by stimulating pressure points along the meridians releasing blocked energy.
Indian head massage adapts swedish massage techniques for treating the scalp, neck, shoulders, upper back and arms and face. This type of massage is very effective on stress as it works on the areas of the body most affected by it.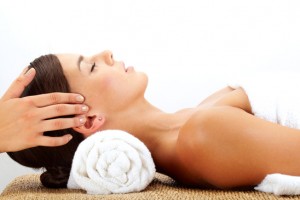 Indian head massage is carried out with the client fully dressed sitting in an upright chair and the therapist using a range of different movements including deep kneading and compression over the neck, shoulder and scalp areas.  Also the therapist may gently stimulate pressure points on the face and base of skull.
How can Indian Head Massage Help?
Fatigue
Insomnia
Blood circulation
…and more
How can I make a booking?
Call Salus Wellness now for a free initial consultation, 01223 300 222.
Where is your Cambridge Indian Head Massage Clinic?
The clinic is based within Salus Wellness at 47 Norfolk Street, about 5 minutes walk from the Grafton centre.