Hot stone massage
Prices range from £45 to £60 for a one hour treatment. Check individual treatment pages for further details. Call 01223 300 222 for a free consultation.

How would it feel if you could have all the stress and worry of life literally "ironed out" with the warmth of hot stones and massage?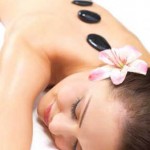 Let one of our fully qualified professional hot stone massage therapists help you relax and relieve the pain and tension in your muscles. We can help you if you suffer with any or all of the following:
Muscular pain
Back, neck and shoulder pain
Muscle tension and stiffness
Rheumatic and arthritic conditions
Stress and anxiety
Depression
Insomnia
Fibromyalgia
 How can hot stone massage help?
Hot stone massage uses a combination of warm stones (with scented oils) and massage to work deep into your muscles and fascia (the tissue around your muscles) to relieve tension and pain. The warmth of the stones relaxes your muscles as well as triggering an increased state of relaxation for both mind and body.
Your therapist will use special techniques to get beneath the surface of your skin and really target the problem area. The treatment helps in many ways from boosting the circulatory system, eliminating toxins and providing relief from chronic pain as well as increasing your energy levels, inducing relaxation and relieving tension.
 What to expect in your first session ?
When you visit our Cambridge hot stone massage clinic, your massage therapist will do a consultation with you to establish what your specific issues are. That way, the treatment will be tailored to your particular requirements.
Although the therapist will check to make sure you are happy with the heat of the stones, please do let the therapist know if the stones are too hot. This should not happen, but it is important to let the therapist know so that you can get the most of the treatment.
Your qualified Cambridge hot stone massage therapists
You can rest assured that you are in safe hands as all the therapists at our Cambridge hot stone massage clinic are fully qualified. Please click on any of the names below to learn more about the individual therapists or call us on 01223 300222 to book a free initial consultation.