Cambridge Deep Tissue Massage Clinic
Prices range from £45 to £60 for a one hour treatment.
£30 for 30 minutes, £70 for 90 minutes. Call 01223 300 222 for a free consultation

Get an appointment with a Cambridge deep tissue massage therapist within 48 hours to relieve your back, neck and shoulder pain.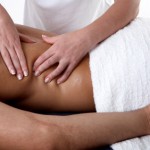 Do you have back, neck or shoulder pain? How would it feel if you could have all the stress and strains of life literally "ironed out" leaving you feeling relaxed, re-energised and recharged?
Can you imagine your day to day life without back, neck or shoulder pain?
Let one of our fully qualified professional massage therapists relieve your pain. We can help you if you suffer with any or all of the following:
Tight, knotted "computer shoulders" from too many hours spent sitting at a desk which has resulted in.
Back or neck strain due to Repetitive Strain Injuries (RSIs) from driving, lifting, carrying or other activities
Muscle stiffness or pain from playing sports
Stress in your back and neck from too much life/work stress
Repetitive Strain Injuries (RSI)
If you suffer from RSI, then deep tissue massage can definitely help. It's one of the most common conditions that patients come to us for. Our patients see real improvement after visiting our Cambridge deep tissue massage clinic.
How often do you find yourself repeating the same tasks routinely whether at work or in your leisure time? RSI's are caused by these repetitive tasks leading to overuse of muscles, tendons and nerves and ultimately result in pain and discomfort. Some common RSI problems are Carpal Tunnel Syndrome (CTS), tennis or golf's elbow and tendonitis which tend to be extremely painful and can restrict normal day to day living.
How can deep tissue massage help?
Deep tissue massage works deep into your muscles and fascia (the tissue around your muscles) to relieve tension and pain. Your therapist will use special techniques to get beneath the surface and really target the problem area. The treatment helps in many ways from boosting the circulatory system, eliminating toxins and providing relief from chronic pain.
In addition to traditional massage strokes, the therapist might use knuckles, elbows, forearms and thumbs in order to reach the problem areas that other massages just can't reach.
What to expect in your first session?
When you visit our Cambridge deep tissue massage clinic, your massage therapist will do a consultation with you to establish what your specific issues are. That way, the treatment will be tailored to your particular requirements.
Although the therapist will check to make sure you are happy with the pressure, deep tissue massage may cause pain and discomfort at some point during the treatment. So it is important for you to let the therapist know if this is the case. Some clients however refer to this as "good pain" during the treatment as it is releasing the tension that they have carried around with them for a while.
It is also important to know that you may feel the after effects of the massage for a day or two but this should disappear without any problems.
Your qualified Cambridge deep tissue massage therapists
You can rest assured that you are in safe hands as all the therapists at our Cambridge deep tissue massage clinic are fully qualified. Please click on any of the names below to learn more about the individual therapists or call us on 01223 300222 to book a free initial consultation.