Cambridge Podiatry and Chiropody Clinic
Range from £17 for each treatment. Get an appointment with a podiatrist (aka chiropodist) within 48 hours to relieve your foot and toe pains. Call our podiatrist on 07828 653083.

Do you have a problem with your feet, toes, toenails, or ankles? Let one of our fully qualified podiatrists (chiropodists) relieve your pain. We can help you if you suffer from any of the following:
Bunions, corns, warts, and hard skin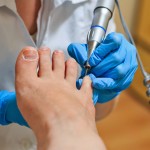 If you have hard skin on your foot or toe then one of our podiatrists can help you get your foot back to normal. When you visit our Cambridge podiatry clinic, the first thing your podiatrist will do is to determine what type of hard skin you have and what is causing it. Based on what they find, your podiatrist will determine what type of treatment will help you heal the most rapidly.
Bunions and corns are caused by pressure or friction on your skin that cause your skin to thicken into a hard layer. Your podiatrist can gently and painlessly remove your bunions and corns and then advise you on how to prevent them from coming back. Often simple changes to your footwear or posture can prevent them from coming back. Sometimes we may recommend special strapping, padding, or insoles to reduce the pressure and friction on your skin and prevent the problem coming back.
For corns, our podiatrists make sure that they remove the centre of the corn (enucleation) to prevent it returning. For bunions and hard skin, we use a gentle debriding process to remove the dry skin, which is like filing the skin down.
If you have a wart, then it is probably from a viral infection with a virus called HPV. This is a very common virus that you can catch from wet public places like swimming pools. One of our podiatrists can painlessly remove your wart(s) for you so that you can enjoy normal feet again. Depending on the type, size and position of the wart your podiatrist may recommend mechanical abrasion, chemical treatment (sometimes called caustics), or freezing (cryogenic treatment). Cryogenic treatment is often the fastest.
We are often asked: "Does it hurt to remove a bunion, wart, or corn?".  While we can't promise that you will experience absolutely zero discomfort, we can assure you that all the practitioners at our Cambridge podiatry clinic are experienced and gentle. So, you will experience very minimal discomfort.
Inflamed skin
If your skin is itchy, flaky, or red, then it is likely that you are suffering from a fungal infection. Your feet are one of the sweatiest parts of your body and unfortunately this makes your feet vulnerable to fungal infections. Come to our Cambridge chiropody clinic, and let one of our chiropodists treat your infection and get your feet back to normal. Your chiropodist will also be able to advise you on how to prevent infections from occurring again in the future.
Toenail problems
We can help you if you need help cutting your toenails or if you suffer from thick, crumbly, discoloured, or ingrown toenails.
If you're elderly or your nails are very thick then it can be difficult to cut your nails yourself. Let one of our experienced Cambridge chiropodists cut your nails safely for you.
If you are diabetic then it is especially important for you to have your nails cut in the correct way, because you have an increased risk of infection. You may also have reduced nerve sensitivity in your foot so you may not even realise if you damage your skin while cutting your nails. Our Cambridge chiropodists can cut your nails in a way that doesn't do any damage to the nail bed or the surrounding skin, to ensure that you don't get an infection.
Ingrown toenails can cause pain along the sides and corners of your nail. You may be suffering from pain, redness, and possibly even a pus-filled wound. Out podiatrists can relieve your pain and make your toe healthy again. The treatment method involves gently removing any pus, removing a little section of the nail that is causing the pain, and then putting an anti-septic dressing on the wound to help it heal. If your ingrown toenail is very serious then we can refer you to another practitioner or the NHS for nail surgery, but this is very rare.
If your toenails are crumbling or discoloured then it's likely that you're suffering from a fungal infection. When you come to our Cambridge chiropody clinic your chiropodist can treat the infection and advise you on changes you can make to your footwear or daily habits to prevent the infection coming back.
Joint and muscle pain in your feet or ankles
If you suffer from ankle pain, pain in the arch of your foot, pain in your calf, or sharp pains under the ball of your foot, then our podiatrists can help you. These problems are often caused by misalignment of your joints or spine, which puts a lot of extra stress on your feet or ankles. This can also aggravate arthritis in your feet or ankles. The good news is that your biomechanical misalignment can be treated by a series of stretching and strengthening exercises (sometimes called "muscle energy technique") which restores optimal alignment. When your joints are in alignment again you've removed the root cause of the muscle and joint pain so it goes away.
Your podiatrist may also recommend orthotics or insoles if they are the best option for you. These are special inserts that go into your shoes to help align the posture of your foot. Your podiatrists can advise you on how to choose an inexpensive orthotic that will nonetheless deliver what you need. Importantly, our podiatrist will conduct a thorough postural assessment to make sure that you get an orthotic that is just right for you and which aleviates your pain. Orthotics may feel awkward or uncomfortable for the first few days, but after than you should notice a real improvement.
What's the difference between a Podiatrist and Chiropodist?
It can be confusing when you see the words podiatrist and chiropodist used interchangeably. In fact, they're just two names for exactly the same thing. Chiropodist is the older name, and podiatrist is the newer name. Most people these days use the name podiatrist. So, don't worry about whether you're making an appointment with a chiropodist or a podiatrist, because a  chiropodist and a podiatrist are the same thing.
Your qualified Cambridge podiatry and chiropody therapists
You can rest assured that you are in safe hands because all the podiatrists and chiropodist at the Salus Podiatry and Chiropody Cambridge Clinic are fully qualified. Please click on any of the names below to learn more about individual therapists, or call Agnes on 07828 653083 to make an appointment.