Cambridge Chiropractic Clinic
Price is £60 for the first session and £45 for further sessions. Check individual treatment pages for further details. Call 01223 300 222 for a free consultation
Get an appointment with our Cambridge Chiropractor to relieve your back, neck and shoulder pain.


How would it feel to have less pain, improved function and more mobility? Our Cambridge Chiropractor uses safe, gentle and painless techniques to help alleviate issues causing you pain.
What is Chiropractic?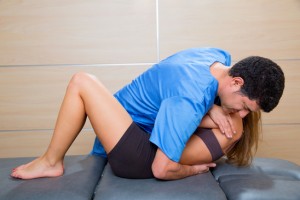 Chiropractic was developed over 100 years ago in the U.S.A. and has built and prospered around the world and in Britain from the 1950s to the present day. The main philosophy is that, to be in optimal health, the body should be in balance and subluxation free to allow full communication around the body via the nervous system.
What is C.K.T?
Developed by David Stevens, Chirokinetic Therapy uses basic muscle testing and cranial input to balance the body allowing harmony to be restored. It has been shown to be useful in helping with allergies and many of today's ills by correcting imbalances and redirecting energy to depleted areas balancing spiritual, emotional and physical needs.
How can Chiropractic treatment help?
The Chiropractor uses a specific manipulation technique, known as adjustment, to relieve pain felt in the musculoskeletal system. Where there is poor posture, movement or an injury causing pain in one area of the body, this may impact another part of the body.
McTimoney Chiropractic is a collection of treatment techniques practiced in a holistic form, assessing the whole body for areas of imbalance and dysfunction. Adjustments rely on speed rather than force therefore is relatively gentle to receive and suitable for young and old.
Chiropractic has been seen to help with various conditions including:
general, acute and chronic back pain
mechanical neck pain and associated cervicogenic headaches
prevention of migraines
general joint pain, including spine
muscle spasms and cramping
What to expect in your first session?
When you visit the Cambridge Chiropractic clinic, the Chiropractor will go through the Chiropractic treatment protocol. This includes taking a full case history; Chiropractic explanation; orthopaedic and neurological testing to arrive at a diagnosis. From this, a treatment plan is formed including after care advice on beneficial posture, stretches and exercises where appropriate.
Your qualified Cambridge Chiropractor
You can rest assured that you are in safe hands as our Chiropractor at our Cambridge Chiropractic clinic is fully qualified, experienced and insured.
Please click below to learn more about our Chiropractor or call us on 01223 300222 to book a free initial consultation.