Cambridge Bowen Technique Clinic
£45 for an hour sessions.Call 01223 300 222 to book an appointment.
Are you experiencing chronic pain, stiffness or tension? Are you stressed or anxious?

The Bowen Technique is a very effective bodywork therapy, where gentle moves are performed on the fascia, muscles and tendons, stimulating the nervous system to reset and allows your innate body healing ability to take place. To allow this, there are frequent pauses between the moves to allow a feedback loop to the brain from the nervous system.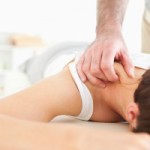 The late Tom Bowen intuitively created this technique and helped about 13,000 people a year at his busy practice in Geelong, Australia. The Bowen Therapy Academy of Australia (BTAA) was established in 1987 to teach his technique around the world.
It is holistic in the sense that it considers the whole body to resolve a specific complaint and it embraces the client's physical and emotional aspects. It is safe and effective for all ages.
Let our fully qualified professional Bowen Technique practitioner help relieve your pain.
The Bowen Technique can help:
Decrease pain, inflammation, muscle spasms or tightness
Improve postural alignment and range of movement
Calm the nervous system
Our Cambridge Bowen Technique practitioner can help with the following:
stress, anxiety, insomnia
chronic fatigue
headaches and migraines
back pain, neck pain, jaw pain
frozen shoulder
sprain injuries
joint pain and arthritis
postural imbalances, scoliosis
plantar fasciitis
sciatica
carpal tunnel syndrome
general stiffness
fibromyalgia
Multiple Sclerosis (MS)
stroke
asthma
bedwetting
incontinence
colic in babies
What to expect?
When you visit the Cambridge Bowen Technique Clinic for your first consultation, the practitioner will take a brief health history and establish what your health issues are to ensure that the treatment will be tailored to your needs.
Usually at the end of the session, clients feel less pain, their range of motion and flexibility can improve and they can have a deep sense of relaxation and well-being. A major relief is sometimes achieved after only one session.
If the problem has not been present for long, 1-3 sessions will be fine. If the condition is more chronic more sessions may be needed. Each person is different – usually three sessions are booked and treatment is reviewed on the third session. For conditions such as arthritis, MS, fibromyalgia or stroke, Bowen is very useful in managing the condition.
After the initial treatment plan is completed you may discuss future sessions for preventive maintenance and release stress and tension.
You may notice changes over the next several days after your session as your body continues the process that began during your session.
Treatment is done through comfortable clothing (please bring loose-fitting clothing or yoga pants and tee shirt that your practitioner can work through.)
Your qualified Cambridge Bowen Technique practitioner
You can rest assured that you are in safe hands as Bowen Technique practitioner at our Cambridge clinic is fully qualified. Please click on any of the name below to learn more about our Bowen Technique practitioner or call us on 01223 300222