Art Psychotherapy
£50 for a 50 mins treatment. Check individual treatment pages for further details. Call 01223 300 222 for a free consultation

Art Psychotherapy is a form of psychotherapy, which uses art forms to help the client express and explore their feelings. An Art Psychotherapist maintains a safe, non-judgemental space where the client can explore their thoughts and feelings.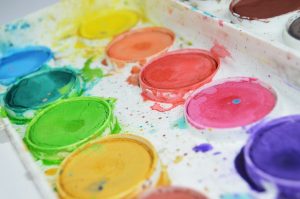 Art Psychotherapy is usually more effective if accessed weekly for several sessions. Brief therapy consists of about six weeks whereas more in depth art psychotherapy can be much longer.
Imagery is used to develop feelings and thoughts supporting and developing the client's narrative. During a session some clients are more comfortable talking whereas others might create imagery. The client needs no previous experience of art making and the proportion of talking and image making can vary from client to client and session to session.
The materials available include pens, paper, paint, clay, playdoh, chalks, sandtray with figures as well as consideration for body processes, dreams and music.
Integrative Art Psychotherapy draws on many theories and different models influence each particular therapist who then tailors the treatment to the client.  Theories include Gestalt Therapy, Mindfulness, Transactional Analysis, Freudian theory, Mentalization-based treatments, Attachment Theory.