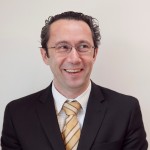 There are many practitioners who have been in private practice for many years and have a strong and well established customer base. These people have built their own business in the days when a sign on the door and an advert on the yellow pages was enough to generate new business. Several years and a few thousands of clients later their practice is entirely relying on their reputation and word of mouth marketing.
Professional practitioners starting a private practice in 2014, assuming they have the serious intention of creating a successful business, will require a bit more planning and correct execution of essential marketing and business development skills. Assuming time, money and resources being scarce it is essential to start from the most basic and important tools available to us all. They are:
Business Cards
Website
Leaflets
The order in which they are listed is the order in which you as a practitioner should approach them. Let's see below a bit more details about why you should use them.
Business Cards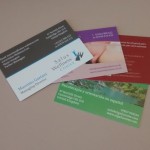 However small and insignificant these pieces of paper might seem they are the cheapest and most immediate form of marketing you can access when starting a business. Please avoid altogether the temptation of designing and printing your own business cards as they will look cheap and tacky. The Internet is full of great offers to have proper business cards designed and printed by professionals; simply choose one. A few suppliers will even give you an interactive website, offering templates, images, themes and choice of fonts and colours. Take your peek and order a few hundreds of them. Avoid the cheapest option for paper and chose 3-400 gsm (Grams per Square Metre) luxury finish. I like to be ecological and believe that non laminated cards are easier to recycle but I'll leave that choice to you. The business card should contain all relevant contact details you want to share with clients or prospects and perhaps a very short description of what you offer. This last piece of information should be expressed within 2-3 words. Avoid, like the plague, the horrid temptation of writing a long list of therapies you offer and try to transform your business card into a leaflet; it will look awful. Once you have business cards keep them close to you at all times. It is no point bumping into a friend or acquaintance, updating them about your new venture and having no business cards to substantiate your conversation. You can easily expect that 4 out of 5 cards you give out will get lost or left somewhere but, like in any sales activity, it's a numbers' game.
Website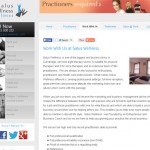 In 2014 I am not going to explain why you must have a good looking, modern designed and recently updated website but I'll explain here two main functions that your website will have for you:
Personal Identity: people might know you exist as a practitioner, might have heard of you, perhaps a friend of theirs pass them your details but many will want to investigate who you are, what you do and perhaps whether they like you before they connect with you. If you don't have a website, if it looks bad or old fashion they might go to another practitioner which fits their taste. In order to be useful for personal identity your website will have to searchable by your name.
Business lead generator: people might be looking for what you offer (e.g. massage therapy) or for some conditions they suffer (e.g. back ache) and therefore your website should have a decent level of SEO (Search Engine Optimisation) to ensure that prospects will find your website, on the first page of Google, when they search for relevant key phrases, not just your name.
A couple of extra recommendations about websites:
Use your own name as domain name; it's easier to remember, it helps SEO for searches which contain your name and it's very good for personal branding. Some people will suggest you to create a brand for your business (e.g. Cambridge Sports Massage) but, honestly, unless you are in the business of creating a large organisation, creating a brand will incur in the double cost of marketing the brand and yourself as an individual. Just avoid one extra step and use your own name.
Use the ".co.uk" extension or the one that is typically local for your country of operation. Some people assume that ".com" is the way to go and that's fine if you are in the USA. On the other hand if you operate from sunny Cambridgeshire there is no need to even suggest you might be based outside the UK, hence the ".co.uk". I have clients which do regular voice therapy over Skype and they are interested in appearing international and that's fine. Also, however trivial the difference, a ".com" domain will cost you nearly £10 per year while a ".co.uk" less than half than that much.
Rely on a well designed, professional website for your business and steer away for heavily advertised DIY sites that offer all in one designer, templates, images and allow you to design your own website. Results will look between poor and very poor and it will be obvious to most observers including your clients.
Leaflets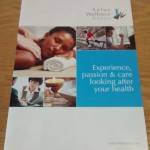 Leaflets and other printed material allow you to explain, with some level of depth, what you offer and why people should decide to be treated by you. The previous suggestion about avoiding too much information on your business cards was in fact offered assuming you will have leaflets where you can indeed list your services and the benefits associated to them. You can choose among different shapes and formats but, in order for them to be practical and cost effective I would suggest A6, A5 or A4 folded in 3. In all cases you should, once more, avoid DIY and relying on professional design and professionally printed material; otherwise the results will look obviously home made and cheap. You can decide to have a single leaflet which explains all about you and what you do. On the other hand, if you offer two or more completely different therapies, suitable for very different audiences you better create several different leaflets otherwise your prospects might get confused by finding everything mixed on the same sheet of paper.
Conclusions and recommendations
The three essential marketing tools for the complementary health practitioner are meant to be used together as part of the so called marketing mix. It is said that most people will need to see a marketing message or a brand 7 times before committing to it so I hope it will be clear to you that one of this tool, by itself, might not be enough to secure a new client. Two extra rules about your marketing:
All marketing material, like the ones described above, should be independent from the others and self sufficient. Each of them should convey the right impression and message, assuming that people will not necessarily try to find and collect all material available about you. Contact details should be accessible and easy to find; maybe it is me but I find very frustrating when I struggle to find a person in order to buy something from them.
All marketing material should look as it was designed as part of a suite. It's really no point having green business cards written in Times Roman and red website written in Helvetica and then yellow leaflets written in Verdana. If you have no idea what the sentence above means that's an extra reason why you need to work with professional designers and printers. Invest some time and thinking about what colours best suit you, your audience and the therapy you offer. Do you need a typeface (font) which is very serious and pompous or something a bit more relaxed and laid back? Once the decision is taken than apply it to all of your marketing material and keep it that way until you have a very good reason to change.