Rossiter System Workout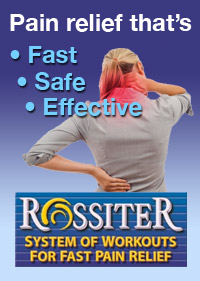 The Rossiter System Workout is an alternative and natural way of getting your body out of pain! It's fast, safe and effective. This technique is done on a yoga mat on the floor, i.e. the client needs to be mobile enough to get down on the floor and back up again on his/her own.
This Rossiter System workout can help with
pain (back, hip, knee, shoulder, elbow, wrist, neck, sciatica etc)
mobility/ range of motion
posture
performance
In a session the Rossiter-trained coach will place a foot in a clean sock on a very specific part of your body to anchor the tissue in place during your movement. This adds power to the stretch. The warmth of the coach's foot plus the pressure you can take and the movement you do to stretch the area, will loosen the connective tissue which in turn creates the space you lost over time through injury, overuse or bad posture. The connective tissue is freed, hence the pain ebbs away and/or you regain mobility.
Call Salus Wellness now for a free consultation 01223 300 222