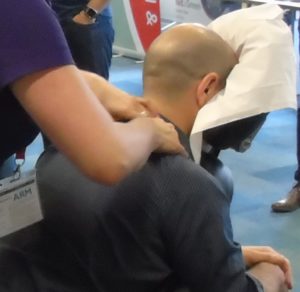 Have you ever considered arranging a wellbeing day at work? This is a great way to reward your employees for their hard work and loyalty.
Salus Wellness Clinics were recently contacted by ARM, the largest high tech company based in Cambridge, enquiring into the provision of 10-minute seated massages at their well-being day.  They knew about a similar gig we recently did for the Forward Institute and wanted exactly the same.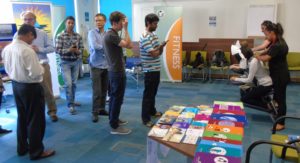 Myself and my colleague Julie Taylor-Allan treated a total of 45 people and, it was so popular, that not all those who attended could be allocated a treatment due to time restrictions.
Those who did receive a treatment, commented on how much better they felt both physically and emotionally. Amongst the many comments were:
"Most excellent, I wish you came here every day".

"Really worth doing. Should be done more often. Great 10 minute break. Thank you!!"

"Very good!!! I had a sore back, it was gone after the massage".

"My first massage ever and I'm really glad I had one. Felt very relaxed. Will be back for more."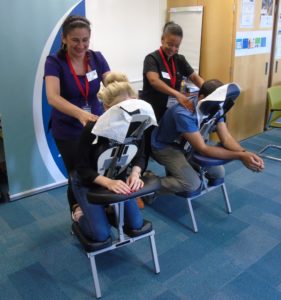 In these highly stressful times, it is extremely important for hard working employees to feel appreciated and valued by their employer, particularly in highly paced and demanding environments typical of high tech fast growing organisations.
This gesture by the employer in turn will raise morale and loyalty in staff, reduce sickness absence and improve productivity. A win:win for both the employees and employer.
To think it only takes as little as 10 minutes, the same time as a coffee break, to help someone feel relaxed, re-energised and rejuvenated was very rewarding
The organisers and all those who attended the wellbeing day were very warm and welcoming and it was a very enjoyable experience for all of us.
Our Salus@Work initiative was created years ago upon request of an event organiser who wanted to help their guests who just flew in for the event.  The amazing success and feedback we received encouraged us to package Salus@Work as an initiative we offer to local organisations both as one-offs as well as for regular weekly/fortnightly/monthly slots.
To-date among our clients we can list event organisers, high-tech and bio-tech companies as well as professional service firms.