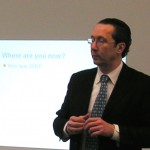 This post shares my experience in helping mental health professionals with their marketing and business development.  It's important to be aware that mental health is affecting a very large percentage of the population and, with the funding cuts in recent years, an increasing number of people cannot get the attention and treatments they need from the NHS.
For this reason I noticed in Cambridge, over the last 5 years, a strong increase in demand for private mental health treatments like counselling, psychotherapy, clinical psychology, CBT (cognitive behavioural therapy) and psychiatry.
Among the therapies we offer in our clinic some of them are suitable to be marketed to the general public in a similar way to other products and services.  When offering mental health therapies it's important to remember that there are both ethical and legal reasons to regulate how these therapies are marketed, mostly because they affect vulnerable people who should not be taken advantage of.
In decreasing order of importance the four most important marketing tools for mental health professionals are:
A professionally designed website
Relevant and active presence on social media
Professional directories
Private insurance companies
A professionally designed website
It's important to have a good website with good SEO (search engine optimisation).  Unless you have previous experience in web design refrain from making one yourself as the result will look amateurish; a professional looking website will payback many times over its investment within weeks or months.  When someone is looking for a solution to their mental health issue they are likely to search online; if they can find your website and it's a good one, they can realise within a short time you are the right professional to treat them and they can easily make contact with you.
Social media
Many people confuse the use of social media to keep in touch with friends versus the professional use of social media as a marketing tool.  The latter is about creating a presence for yourself as an authority within the mental health profession (e.g. psychology or counselling) and publish or re-publish relevant content about how you can help your patients.  Typical social media that can work for mental health are Twitter to share links of articles from yourself or other professionals, Facebook to collect and share relevant content and Youtube to share videos of yourself or other professionals who are experts  in your profession.
Professional directories
Considering that all of the professions mentioned in this post are heavily regulated you should enlist yourself within professional directories.  These are websites which will check your qualifications and accreditations before accepting you so they offer an extra level of reassurance for patients who can have the peace of mind of using a fully qualified and accredited practitioner  who has been professional vetted.
Private Health Insurance Companies
As I mentioned at the beginning there is reduced availability of mental health treatments from the NHS therefore many people who have private health insurance often decide to use it for their mental health issues.  In these cases, once they have a referral from their GP, and the go-ahead from the insurance they will check the insurance website for a list of local professionals.  While working in similar way each insurance company have their own set fees and minimum requirements to accept a mental health professional within their directories.  It's worth checking with all of them and decide whether working with all of them or just a few.  Despite the fees paid by insurance companies  usually being below standard market value by 10-30%, I suggest working with them as the cost of acquisition for these patients is minimum and can be used to fill up gaps in the calendar.
Conclusion
For many professionals in mental health, particularly those who just left or are still working  in the NHS, the concept of doing any kind of marketing is awkward.  Mental health, similarly to the medical profession is for many a vocation about helping others.  However as most of us have bills to pay it's essential to understand what can be done to quickly build up a successful practice which is busy enough to make a living.  The tools and techniques described above can help with that.