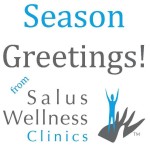 Another year is coming to its natural end we once more we are ready to celebrate the festive season with family, friends and loved ones.  Salus Wellness, its staff, practitioners and management wish you a vary Merry Christmas and fantastic New Year 2017.  We would like to use this post to inform you all that our reception will have the following schedule over the next couple of weeks:
Friday 23 Dec: open 9:30-15:00 only
Monday 26 Dec: closed
Tuesday 27 Dec: closed
Friday 30 Dec: open 9:30-15:00 only
Monday 2 Jan: closed
usual time for other days; e.g. open 9:30-5 weekdays and closed Saturday and Sunday
Please bear in mind practitioners might work while reception is closed and they should be contacted directly for appointments or for cancellations.