Rosanna Price
Acupuncturist
£75 first session of Acupuncture (90 min), £50 per subsequent sessions (45 min).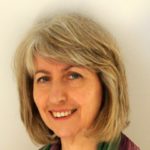 Rosanna Price is a highly experienced acupuncturist and Zero Balancing practitioner who has been in practice since 1989. She specialises in treating people with a diverse range of physical, mental and emotional conditions, with a focus on trust, safety, encouragement and support. Non-judgmental acceptance and understanding in the treatment room mean better results for you.
She became interested in complementary medicine in the mid-1980s, when she sought help for crippling migraines brought on by bereavement.  Acupuncture brought about such a dramatic improvement in her health, emotionally as well as physically, that she resigned from her job as a Press Officer for an arts organisation in London and began her initial Five Element acupuncture training at the College of Traditional Acupuncture in Leamington Spa, going on to complete an Advanced Licenciate in Acupuncture in 1994.   Since then she has received further qualifications in Traditional Chinese Medicine (TCM) from the College of Integrated Chinese Medicine in Reading.
She started training in Zero Balancing (ZB) in 1991 after being inspired by a wonderful ZB session from a colleague.  She qualified as a Certified Zero Balancer in 1999 and went on to train as a ZB Teacher with the founder, Dr Fritz Smith, in both the UK and the USA.  Since 2004 she has taught Zero Balancing workshops in Northamptonshire, Cambridge, and Milton Keynes, and is passionate about mentoring students.
Rosanna is a member of the British Acupuncture Council, which governs Safe Practice, Professional Conduct, insurance and educational standards; and of the Zero Balancing Association (UK).
She splits her life between rural Northamptonshire and rural Cambridgeshire, and is enthusiastic about knitting, growing organic vegetables, juicing and mountain walking.
Please take a look at Rosanna's website www.tree-of-life-therapy.co.uk for testimonials and more information on how she works.  And give her a call on 07970 295177 to discuss how she might be of help.