Myriam Thomachot
Bowen Technique Practitioner
£45 for an hour sessions.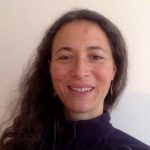 Myriam Thomachot BTAA (The Bowen Therapy Academy of Australia) is a Bowen Technique Practitioner and she specialises in:
Decreasing pain, inflammation, muscle spasms or tightness
Improving postural alignment, and range of movement
Lowering stress and anxiety
She works primarily with people who are looking to resolve chronic pain, tension and stress and who want to live in a more vibrant body with a calm heart and centred mind.
Myriam is a Certified Bowen Practitioner registered with the Bowen Association UK qualified from the Northwest School of Structural Therapy, Seattle, USA.
She moved to Cambridge in 2017 from North America where she was running her practice. In her previous career Myriam was a language teacher and holds a Masters from the University of Lyon.
Myriam decided to train in the Bowen Technique after she experienced a session some years ago, which released about 80% of the muscle tension she was holding in her body. She had back discomfort growing up, a herniated disc at 17, and had been suffering from sciatica and chronic pain since then and was not able to live her daily life normally. She had tried many alternative therapies so she was really curious how these subtle Bowen moves brought her such relief. She is now dedicated to help facilitate people's healing using this technique.
For more info you can visit her website
To book an appointment, please contact her direclty on her mobile 07986 002958 or by email mthomachot@gmail.com
Here are some testimonials from her clients showing the beneficial effects of the treatments:
Myriam's skills as a Bowen Practitioner changed my life. We met in Nepal where I received 2 treatments. Before arriving I had received prednisone and then Synvisc injections in both knees with such poor effect that the presumption was knee replacements would be done on my return to the US. After the first Bowen treatment not only was my knee pain gone but I went dancing the next night. After treatment two, tension in my shoulder, chest and neck were gone. My biggest regret is having to leave the country before I could complete my work with Myriam.   Marjorie De Jongh, USA
I have seen and felt a tremendous change in my body. I am more in touch with internal sensation, more flexible, more balanced, and nearly pain-free! I watched my intense shoulder pain dissolve, opening other parts of my body along with it. After every session, I delighted in feeling the shifts in my body. I really got to know myself! Myriam is an excellent practitioner, still and caring, with a solid grasp of the technique. I highly recommend receiving Bowen from Myriam, for pain relief, or simply to get to know your body better!  Rose, Montreal, Canada
The results after only one session were dramatic, my mobility increased and pain level decreased. I had a sense of deep relaxation, my wife said that I walked better and even sounded different. Myriam is also quite wonderful to be around, she is gentle, caring and sincere. Myriam has a special peaceful presence that enhances her healing abilities, I'm looking forward to my next visit with her.  Paul Barron, Annacortes, USA