Luca Mangiola
Sports massage therapist and Posturologist
£60 first assessment and treatment (1h), £50 follow-up treatment (50min)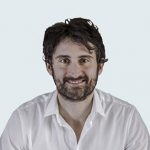 Luca has been working within the fitness sector for a long time, after graduating as a Sports Therapist in 2006. He went on to gain further experience in Sports Massage Therapy with a speciality in rehabilitation and corrective interventions. As well as his massage therapy qualifications, he holds a degree in Sports Science from the University of Milan, and qualifications in Advanced Personal Training and Kinesio Taping. He is registered in Italy with ROI (Italian Register of Osteopathy) and currently in the process to recognise his qualification here in the UK.
Luca treats the person as a whole rather than specific conditions – for example, an injury to your knee might also affect the foot, hip and spine. Luca can help treat the cause and relieve the symptoms of a range of conditions, including:
aches and pains
joint pains including hip and knee pain from osteoarthritis in association with other treatment for this condition
arthritic pain
general, acute and chronic backache and back pain
neck pain
muscle-related headache
shoulder and elbow pain
joint pains and lower back pain
sciatica
muscle spasms
sports injuries and tensions
With this profound knowledge, experience and understanding in massage therapy, fitness training and postural assessment, Luca successfully helps his clients to identify, address and exceed their personal goals, both in sports training and rehabilitation.
Luca primarily works through the neuro-muscular-skeletal system, mostly on muscles and joints, using holistic and patient-centred approaches.
The body is an integrated and indivisible whole, and contains self-healing mechanisms that can be utilised as part of the treatment. No part of the body works, or can be considered, in isolation. Relevant psychological and social factors also form part of the process of patient diagnosis.
The key tools for Luca's diagnosis include listening to the patient's history, examining muscles and joints and observing movements. X -rays, scans and other clinical investigations are also used if available.  A wide range of gentle, non-invasive manual techniques such as deep tissue massage, joint articulation and manipulation are applied therapeutically.
You can contact Luca by calling 07557 871263 or send an Email to luca.mangiola@yahoo.com