Ian Lewis
Registered Osteopath
Prices Range from £40 to £60 for an appointment.
Initial Appointment is 1 hour. Follow up appointments are ½ hour.
Ian Lewis is a Registered Osteopath with the General Osteopathic Council and a member of the Institute of Osteopathy. He has experience of treating various conditions:
sports injuries
occupation musculoskeletal conditions
osteoarthritis
fibromyalgia
temporomandibular joint disorders
musculoskeletal jaw pain
whiplash associated disorders,
neck, back and pelvic pain
radiculopathy (nerve compression) including sciatica
musculoskeletal conditions of shoulders, elbows, knees, wrists, ankles and hips
headaches (tension type, cervicogenic, migraine)
He has previously worked in osteopathic clinics in Oxford, Swindon, Borehamwood and Marylebone, Central London where he had success treating competitive athletes, professionals / office based occupations, tradespeople, children and post-partum mothers to people with chronic musculoskeletal conditions.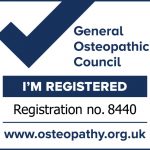 Ian holds a Bachelor of Osteopathy from Middlesex University and received his osteopathic training at the College of Osteopaths. He is registered with the General Osteopathic Council.
Contact Ian by telephone or email if you feel that an osteopathy treatment is for you. Then he will determine if treatment is safe and effective for you. Alternatively, he will refer you to another suitable practitioner to help you with your issue.
Telephone: 07982 432732 Email: ian.lewis@camosteopathy.co.uk
Visit his webiste: camosteopathy.co.uk/