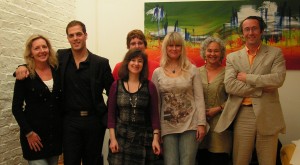 Salus Wellness Clinics, a Complementary Health Centre recently opened in Cambridge has run last week the first business workshop for their therapists.
Covering a number of key topics revolving around how to best run a business this 2 hours workshop was run by:
Luca Senatore, Sales Director of Salus Wellness and successful Sales Trainer and mind coach
Massimo Gaetani, Marketing Director for Salus Wellness and successful Business and Executive Coach.
The 5 delegates, all new recruits for the Health Centre, all had the opportunity to express their preferences of topics to be discussed. The presentations were then developed with a strong component of interactivity involving each participant and giving them the opportunity of explaining and discussing their particular issues and getting effective help from both the coaches and the other delegates.
Luca's presentation was about:
Motivation to buy
Emotional Drives
Goal Setting
Market Targeting
Massimo's presentation was about
Strategic Positioning
Planning
Marketing
Pricing
Salus Wellness offers, on top of great facilities and state of art equipment, a fully inclusive package of business mentoring and coaching to allow all practitioners to thrive.   In fact, after only a few weeks form the opening, Salus is creating the Win-Win-Win situation mentioned before the opening.
Salus Wellness is  therefore inviting all practitioners interested in exploring a new opportunity to work in a very dynamic and inspiring environment, together with real hands on help that allow you to grow your business.
For more information please contact:
Luca Senatore – 07869 109 337 luca@salus-wellness.com
Massimo Gaetani – 07879 610 111 massimo@salus-wellness.com