Professional therapists from Salus Wellness volunteered their time and expertise at a charity event last week, during the celebration party that Brainbow organised for their first year in operation.
Brainbow is a partnership between three independent charities – Anna's Hope, Camille's Appeal and Tom's Trust, working with Addenbrooke's Hospital – to fund and provide a pioneering rehabilitation service in the East of England for children with brain tumour.  The Brainbow service provides co-ordinated specialist neuro-rehabilitation (physiotherapy, speech and language therapy, occupational therapy and clinical psychology) assessment and some treatment for children with brain tumours.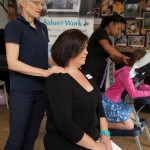 As part of their celebration, which was excellently organised in a beautiful park just outside Cambridge, Brainbow wanted to offer head and shoulder seated massage to help their attendees to release some stress and tension accumulated over time.
At Salus Wellness we love to be involved in these community events and we were very pleased, in this occasion, to be very busy from the very beginning to the last minute of the party. We are very thankful to both Elke Hausler and Julie Taylor-Allan for their precious contribution.