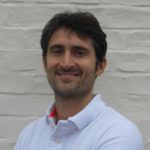 We are very pleased to announce that Luca  Mangiola has joined Salus Wellness in Cambridge this month.
Luca has worked in the fitness sector for a long time, after graduating as a sports therapist in 2006. He went on to gain further experience in sports massage therapy with a specialty in Rehabilitation.
The team here at Salus Wellness are looking forward to working with Luca to support him in growing his client base in Cambridge. Luca is another great addition to our already extensive list of professional therapists.
Visit his profile by clicking here