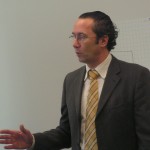 In this post I will discuss some of the different ways people might be searching for you/your business on the Internet and in a few cases, with an increasing level of difficulty to be found.
There was a time when people would go on your website just when they knew you exist, perhaps after meeting you and they knew the URL of your website.  Then the search engines came along and we all got lazy.  Lazy because it's no point anymore to look for the correct URL of a website; we search them using Google or other search engines of choice.  But how do we search for people, or a business?  We type a few words, a phrase into the search engine and check the results.  Most people will not bother to check beyond the first page of results so your aim should be to be on the first page of search results for all phrases you care about.
In order to make this example meaningful let's assume you are called Joe Bloggs and you are a Massage Therapist in Cambridge. Here is the list of search terms in increasing order of difficulty to achieve:
Your name, service you offer and location
This should be your first goal to be found and the simplest way for people to find you on the Internet.   You should check now whether a search will work with one of the following sentences.  Obviously replace Joe Bloggs with your name, massage with your therapy and Cambridge with your location:
Joe Bloggs Massage Therapist in Cambridge
Joe Bloggs Therapist Cambridge
Joe Bloggs Massage Cambridge
If your website doesn't appear on the first page of google then you should either speak to your web designer or someone who understands the most basic principles of Search Engine Optimisation (SEO).
Your name and therapy – e.g. Joe Bloggs Massage
This should also be relatively easy to achieve in the hope there is not another therapist with your name who offers the same therapy as you do.
Your name and location – e.g. Joe Bloggs Cambridge
This might be a bit more complicated and is very dependent on how common your name is.  If there is a famous person who has a name like yours and lives in your  town it will be very difficult for you to be found on the first page of a search.
Your therapy and location – e.g. Massage Cambridge
This is the most difficult to achieve, particularly if you are new in this business or in your location; depending on the therapy you are offering there might be tens, hundreds or thousands of other practitioners offering  the same therapy in your area.  If that's the case you might try to optimise your website for the so called long tail searches, e.g. not just the simple therapy and location but adding some extra information like the issue you are trying to address: e.g. massage backache Cambridge.
SEO  is about helping your web pages to be found by the relevant search terms.  A few tips to improve your search ranking and results would be:
Have a decent looking, well written and professionally designed website
Use WordPress as the content management system (CMS): WordPress has a structure which facilitates SEO.
Make sure that your WordPress installation has one of the relevant SEO plugins installed and properly configured
Keep your website fresh with new content (e.g. blogging) and add relevant articles about what you offer, how you offer it and so on
If you don't know much, or anything at all, about SEO perhaps you should speak to an expert and see what he/she suggests.  Our affiliate marketing agency, Salus Marketing, is offering a broad range of marketing services including web design and SEO so you can get in touch and find out more about how we can help you.